Les Rallizes Denudes' THE OZ TAPES will be released in Japan and Asia on April 27, 2022.
Produced by Makoto Kubota in collaboration with U.S.-based label Temporal Drift, The 2LP set will be distributed in those territories by Tuff Vinyl, and is available now for pre-order via Tuff Vinyl's online store.
Release details for the rest of the world will be forthcoming.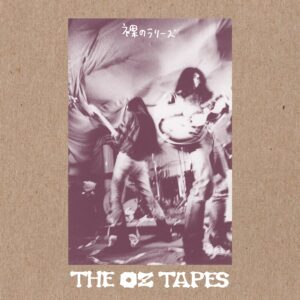 『THE OZ TAPES』
2LP (DRFT03) ¥5,500
Side A
 1. OZ Days
 2. A Shadow on Our Joy / 僕らの喜びに影がさした
 3. Wilderness of False Flowers / 造花の原野
 4. White Awakening / 白い目覚め
Side B
 1. The Last One_1970
Side C
 1. Memory is Far Away / 記憶は遠い
 2. Vertigo Otherwise My Conviction / 眩暈
Side D
 1. The Last One_1970 (ver.2)

Takashi Mizutani – vocals, guitar
Takeshi Nakamura – guitar
Makoto Kubota – bass
Shunichiro Shoda – drums

THE OZ TAPES contains over 60 minutes of previously unreleased Les Rallizes Denudes material recorded in 1973 at legendary venue OZ in Kichijoji, Tokyo, in addition to the recordings from the same sessions that originally appeared on the 1973 compilation OZ DAYS LIVE.
Remastered from the original tapes by Makoto Kubota, THE OZ TAPES is the first-ever official full-length Rallizes record to be released on vinyl.
Housed in a wide-spine craftboard jacket, the album Includes a booklet containing new liner notes and previously unpublished photos taken by OZ crew members and manager Minoru Tezuka.