We are pleased to announce the release of "The OZ Tapes," a collection of Les Rallizes Dénudés performances recorded at Kichijoji club 'OZ' in 1973, portions of which were previously released as part of the compilation album "OZ DAYS LIVE."
The recordings were taken from the well-preserved original master tapes, which have been carefully restored and remastered by Makoto Kubota.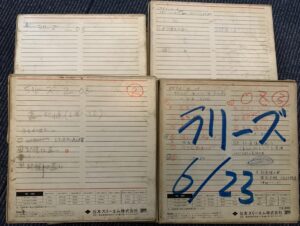 These recordings will also be included in the upcoming 3CD set "OZ DAYS LIVE '72-'73 Kichijoji (50th Anniversary Collection)", alongside the other artists featured on the original "OZ DAYS LIVE" (with the exception of Taj Mahal Travellers).
More details for both releases will be announced soon.
"The OZ Tapes"
Temporal Drift(DRFT03)2x LP
Disc 1
A1 OZ Days (1:33)
A2 A Shadow on Our Joy / 僕らの喜びに影がさした (7:08)
A3 Wilderness of False Flowers / 造花の原野 (7:42)
A4 White Awakening / 白い目覚め (3:47)
B1 The Last One_1970 (25:45)
Disc 2
C1 Memory is Far Away / 記憶は遠い (ver.2) (6:36)
C2 Vertigo otherwise My Conviction / 眩暈 (11:32)
D1 The Last One_1970 (ver.2) (26:04)