Les Rallizes Dénudés (LRD) was formed at Doshisha University in 1967 by Takashi Mizutani (Vo/G), Takeshi Nakamura (G,B), Moriaki Wakabayashi (B), and Takashi Katoh (Dr).
Takeshi Nakamura: About when we formed the band… First of all, I met Mizutani at the university's Light Music Club. Anyway, with his long hair that was still rare at the time, he was really cool, and his unique air fascinated me at a glance. I think it was probably me who asked 'How about we start a band together?' So we have to look for bass and drums, maybe we can find someone cool, kind of thing, and searching the campus together, we found Wakabayashi. Talking together, it turned out that he listened to the same music as we did, but, he had never played an instrument. We asked him to do bass. So basically, from the beginning the feeling and philosophy were more important than instrumental technique. After that, I had an acquaintance from high school who played jazz drums, okay that's him, we said, and that was Takashi Katoh.
Wanting to do the band in Japanese language, including the band name too, was definitely there from the beginning. At that time, there were commercial made-for-television bands using Japanese language for their Japanese viewers, but there wasn't any band really playing real rock music in Japanese. Mizutani was a poet and was already writing the lyrics.
The live shows were really high volume from the very beginning. Mizutani said that as soon as he played the first note, he himself transformed completely, in one shot. The loudness of the music, is one of the chances to send your consciousness flying, isn't it…
Spring to fall of '69, the bass changed to Takashi Tada and drums changed to Tsutomu Matsumoto, but then the band became Mizutani by himself. Around that time, he did some recording in Doshisha student hall with Makoto Kubota who was also a member of the Doshisha Light Music Club.
Makoto Kubota: I was also in the Light Music Club, playing Bossa Nova and that kind of music. Mizutani ended up quitting the club right away, but a little while after….maybe autumn '69?, when I was in my second year, I ran into him on campus, and he told me 'I'm doing this now' and gave me a flyer.
The flyer had his profile, so it could have been the flyer for 'Recital No. 2 As The Indulgence' at Kyoto Education Cultural Center, I think. It was a concert hall with proper tickets and everything, of about 400 people. I went there, and the sound was extremely loud, it was my first experience to feel such loud noise.

After that when we met again, he said to me 'I want to play acoustic, so, please help me, okay…' So after that I guess I went to his apartment in the Fushimi area, and we started playing guitar and writing songs together.
The two of us somehow did some sessions together, then there was Tadanaka Makino, who was playing handmade small percussions, who was a member for a short time. Like that we did a couple concerts, mainly guitar and side guitar, or guitar and bass, kind of thing… 'The Last One' from 'Mizutani/Les Rallizes Dénudés' was like that. That concert was together with Masato Minami I think.
Then later, we recorded the original sound of 'Mizutani/Les Rallizes Dénudés' (CD) at Doshisha student hall. It was already the beginning of '70, January or February, it was a cold time.. I was still just about 20 years old, but that was actually the very first work I produced. I guess Mizutani knew I was into home recording and we could work together in the studio so he asked me to join the session.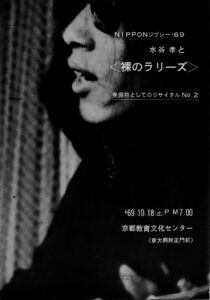 In 1970, Mizutani played several live shows with the members who would later form Murahachibu. Thereafter, he moved to Tokyo with help from Masato Minami and started a new lineup with Mikio Nagata (bass) and Shunichiro Shoda (drums).
The following year, 1971, the band played a three-day concert at BYG in Shibuya, an event at Lake Shoji in Yamanashi, Keio University's Mita Festival, and other venues. At this time Kubota, who had left to the U.S. the previous year, also rejoined the band after coming back to Japan. Then Nakamura, who had earlier left to Tokyo, rejoined the band again, Kubota remained involved with LRD as a guitarist and bassist until 1973, while also working with his own band, MAKOTO KUBOTA & THE SUNSET GANG.
Then in 1972, the band was introduced to Minoru Tezuka, who had just opened the live music club 'OZ' in Kichijoji, Tokyo, by photographer Aquilha Mochiduki.